How to Turn Your House Into the Finest Steakhouse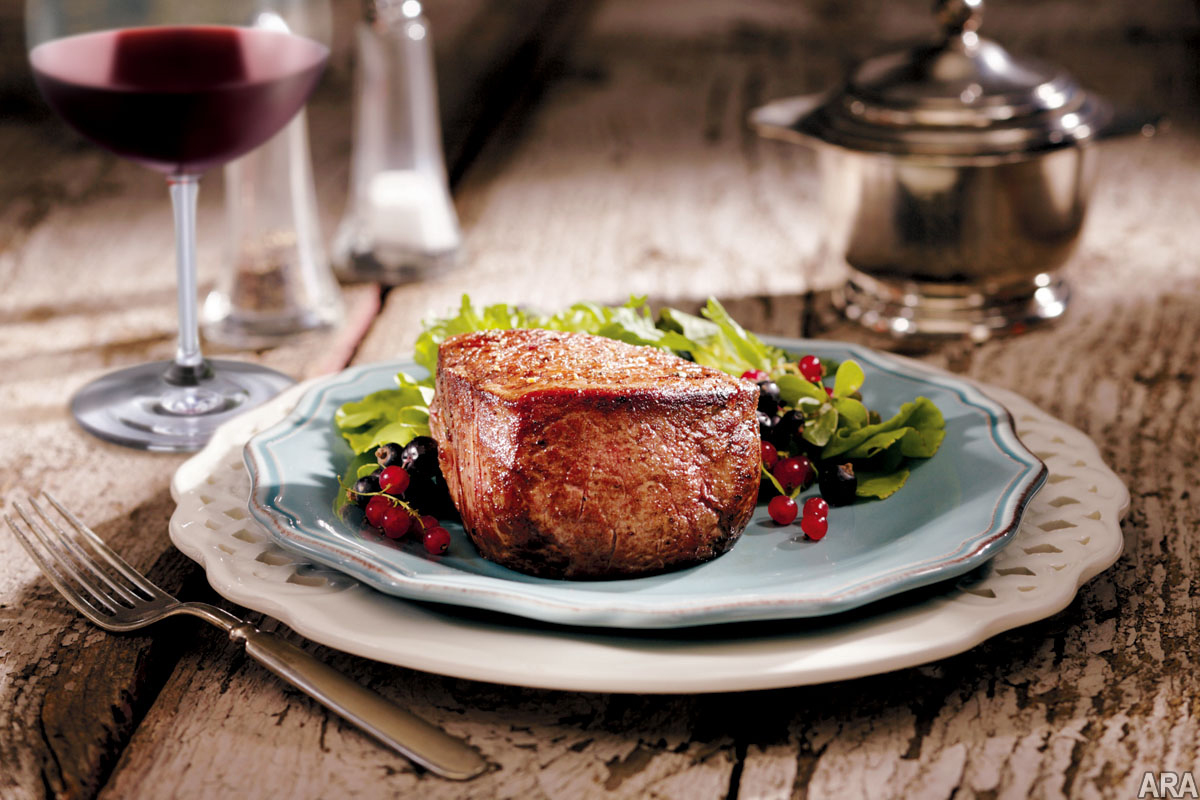 (ARA) – With autumn approaching, appetites will soon be craving those big, hearty flavors that warm the soul. Imagine a fireside table topped with a succulent steak and a robust red wine. Think you need to make a reservation at the swankiest steakhouse in town? Think again. With a little effort, it's easy to recreate a savory steakhouse experience at home.
A number of cattle ranchers are selling premium cuts of meat directly to consumers. Of course, sourcing the meat is only half the battle; the other half is selecting a wine that can hold its own up against a rich, flavorful meal. For the perfect pairing, look to the American West.
"The success of a steak dinner starts with the cut and quality of the beef, but ultimately rests with the preparation," says Kristin Thornton of The Double R Ranch Co. "We take great pains to hand select and age our cuts of beef, so we also provide our customers with detailed cooking instructions to ensure a great dining experience."
The Steakhouse Method
While there are many ways to prepare a steak, Thornton suggests using The Double R Ranch's "steakhouse style" for a mouthwatering result. An ideal method for thicker cuts, the steakhouse style involves a quick sear in a cast iron skillet to trap the juices, followed by an oven finish to achieve the desired doneness. Not only does this method give home cooks the perfect steak, but it provides some additional time and space to finish up any side dishes.
The steakhouse method also provides ample time to open a bottle of red wine and let it breathe, and Thornton thinks you can't go wrong with a big red from California. "Cabernet Sauvignon is a natural complement to a decadent ribeye or tenderloin," says Michael Martini, Master winemaker at the longstanding Louis M. Martini(R) Winery in California's Napa Valley. "Its full body stands up to the richness of the cut, and the simplicity of a quality steak provides a remarkable canvas for illustrating the wine's complexities."
California Cabernet Sauvignon is relatively easy to find in stores, and many wineries also ship direct to consumers. "The steakhouse experience doesn't need to have a luxury price tag," notes Martini, "and just the right Cabernet Sauvignon can cost less than $20 per bottle."
The Louis M. Martini 2009 Sonoma County Cabernet Sauvignon retails for around $18 and blends fruit from several prestigious vineyards. The result is a well-balanced, multilayered wine with aromas and tastes of red cherry, black cherry, blackberry and fresh sage. An underlying Dry Creek dustiness and subtle herbal notes are complemented by additional layers of chocolate and vanilla, which make for a decidedly complex and food-friendly wine. It can also be used as a terrific sauce for your steak. Here's how:
Cabernet Sauvignon Steak Sauce
Ingredients:
1 1/2 cups barbecue sauce
1 cup Louis M. Martini Sonoma County Cabernet Sauvignon
Kosher salt and freshly ground pepper, to taste
Directions:
In a medium sized bowl, whisk together barbecue sauce, wine, salt and pepper and pour into a saucepot. On the stovetop, bring the mixture to a boil until it thickens. Serve on the side as a dipping sauce.
With the main attractions selected, it's time to prepare some simple sides like baked potatoes and steamed veggies to accompany the meal. Then, break out the fine linens and china, light the fire or a few candles, and your steakhouse transformation is complete.
---
---