Have A Happy Friendsgiving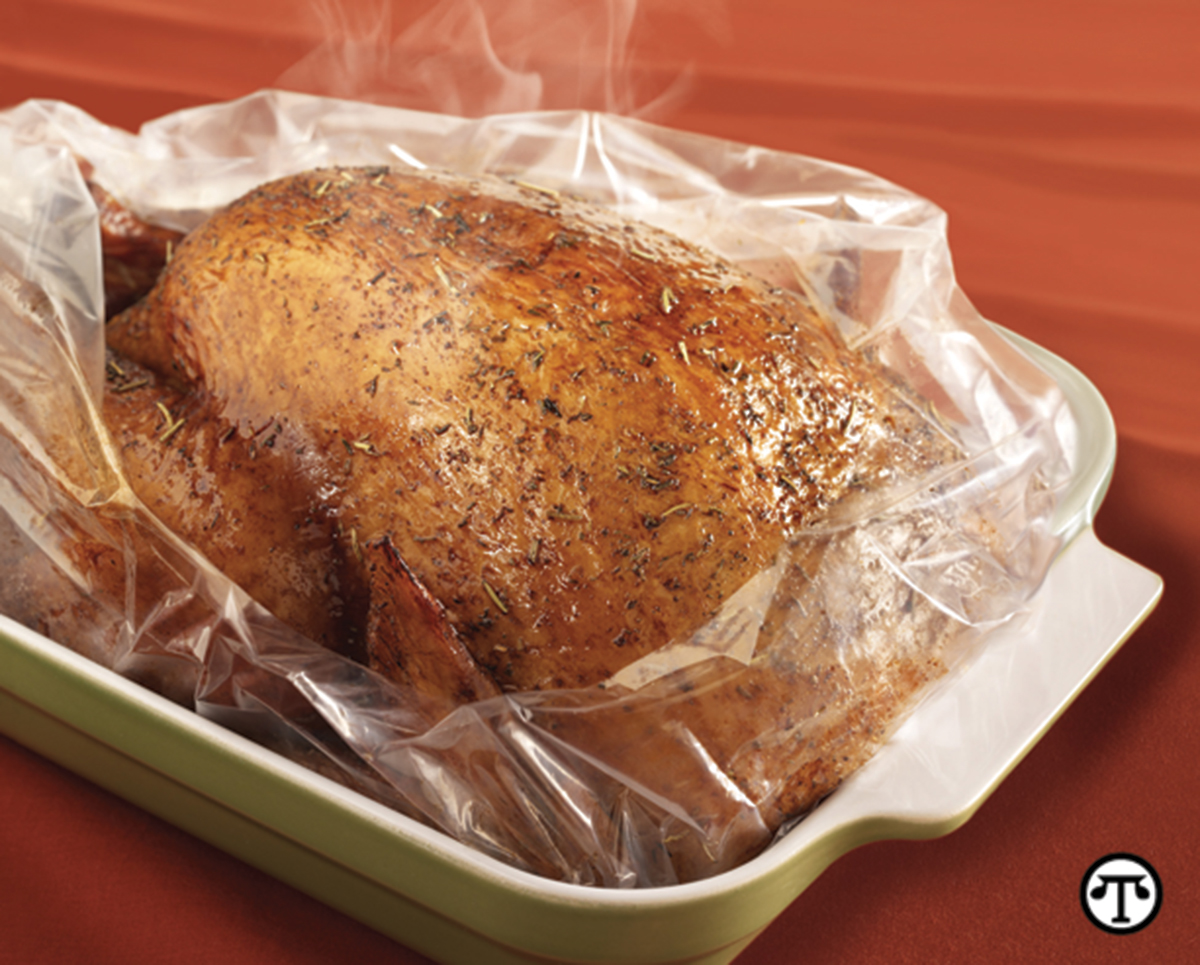 (NAPS)—Can't make it home for the holidays? Consider hosting a Fun "Friendsgiving" day with colleagues, dorm mates, neighbors and pals. Luckily, it can be easy to do—even in small apartments, offices or college kitchens.
Don't worry about a lot of extra equipment. It's easy to roast a turkey in a Reynolds Oven Bag. Reynolds also makes disposable Bakeware that makes cooking and transporting a cinch. It's made with heavy-duty aluminum, so don't sweat a big mess. And the bright-blue exterior is stylish enough for serving.
You can see how well they work with this recipe:
Herb-Roasted Turkey
Ingredients:
1 Reynolds Oven Bag, Turkey Size
1 tablespoon flour
2 stalks celery
1 medium onion
1 8- to 24-pound turkey, fresh or thawed
2 tablespoons vegetable oil or melted butter
1 tablespoon dried sage
1 teaspoon each dried thyme, basil, rosemary, paprika and seasoned salt
1/2 teaspoon pepper
Directions:
Preheat oven to 350° F. Shake flour in Reynolds Oven Bag; place in large roasting pan at least 2 inches deep. Spray inside of bag with nonstick cooking spray, if desired, to reduce sticking with large turkeys. Add vegetables to oven bag. Remove neck and giblets from turkey. Rinse turkey, pat dry and brush with oil. Combine seasonings in a small bowl; sprinkle and rub evenly over turkey.
Place turkey in oven bag on top of vegetables. Close oven bag with nylon tie; cut six ½-inch slits in top. Insert meat thermometer through slit in bag into thickest part of inner thigh not touching the bone. Tuck ends of bag in pan.
Bake 1 1/2 to 2 hours for 8–12-pound turkey or until meat thermometer reads 180° F
2 to 2 1/2 hours for 12–16-pound turkey or until meat thermometer reads 180° F
2 1/2 to 3 hours for 16–20-pound tur­k­ey or until meat thermometer reads 180° F
3 to 3½ hours for 20–24-pound turkeys or until meat thermometer reads 180° F
For lightly stuffed turkeys, add 1/2 hour to bake time. Let stand in oven bag 15 minutes. Cut open top of bag. Use two carving forks, inserting one in each end, to lift turkey from bag.
Be sure the turkey is completely thawed before starting to cook it. Depending on the size of the bird, this may take several days in the refrigerator.
For a video on how to prep and cook turkey in the oven bags, go to www.reynoldskitchens.com. At that site, you can also find further facts and more Friendsgiving recipes.
Roasting a turkey for your friends may be simpler than you think.
---
---