Gifts From Home for the Holidays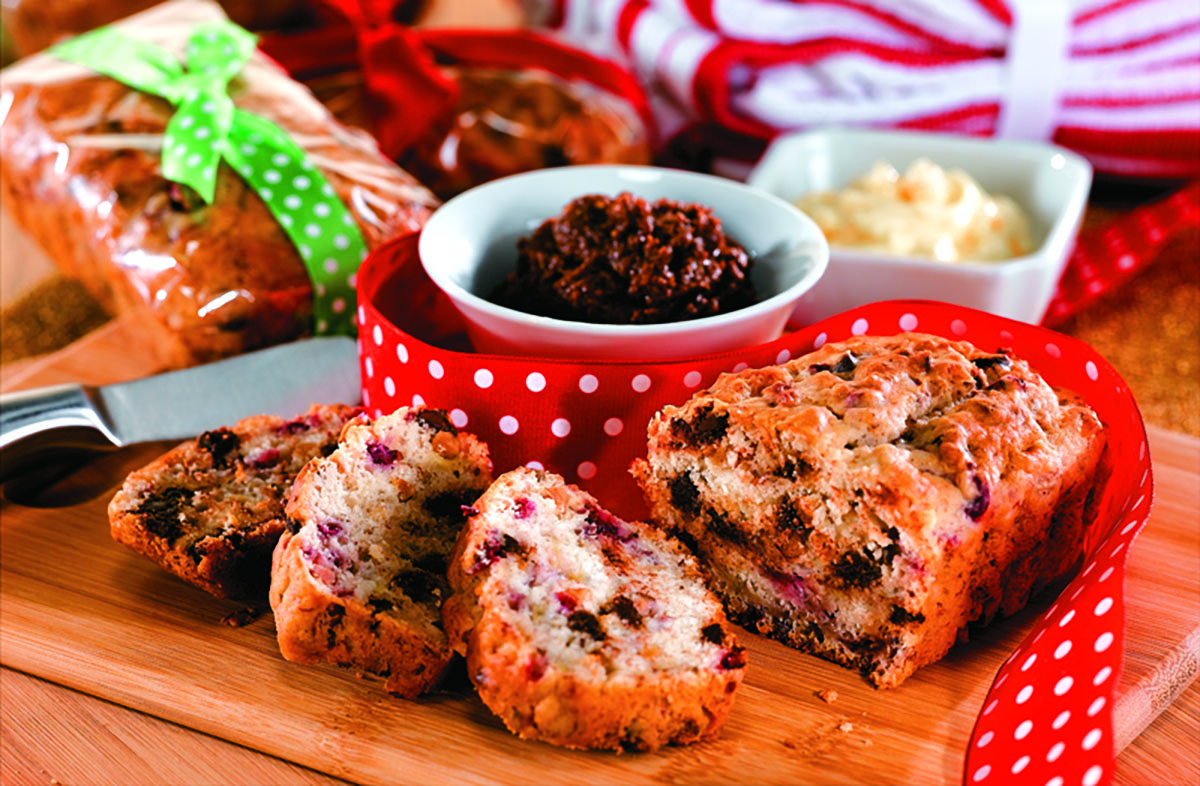 (NewsUSA) – If it's truly better to give than to receive, why not give more than gifts from the store this holiday season? Home-baked treats are the perfect way to warm a heart and satisfy a sweet tooth for the people on your "nice" list.
"Take a break from the hustle and bustle of holiday shopping, and spend a pleasant day in your cozy kitchen making home-baked gifts, like little loaves of Chocolate Hazelnut Fruit Bread," said Martha White® baking expert Linda Carman. "Giving someone a homemade gift is special because it's a priceless gift of your time."
To make your gift even more meaningful, consider pairing the mini loaves with a wooden cutting board, a spreader and a small butter crock filled with a homemade spread that's delicious and easy to make.
Chocolate Hazelnut Fruit Bread
INSTRUCTIONS
Bread
Crisco® Original No-Stick Cooking Spray
2 (7.4 oz.) pkgs. Martha White Chocolate Chip Muffin Mix
1/2 cup sour cream
3/4 cup milk
1 teaspoon vanilla extract
3/4 cup mashed ripe banana (about 2 large)
1 cup fresh cranberries, coarsely chopped
3/4 cup chopped hazelnuts
Orange Butter and/or Chocolate Hazelnut Spread, optional (below)
DIRECTIONS
Heat oven to 350 degrees F. Coat bottoms only of four 6 x 3 1/2-inch foil loaf pans with no-stick cooking spray. Stir together all bread ingredients in large bowl until well blended. Divide batter among prepared pans.
Bake 40 to 45 minutes or until toothpick inserted in center comes out clean. Cool in pans 5 minutes. Remove and cool completely on wire rack. Wrap and store in refrigerator. Serve with Orange Butter or Chocolate Hazelnut Spread, if desired.
Makes 4 small loaves
Orange Butter: Beat 1/2 cup softened butter in small bowl with electric mixer at medium speed until light and fluffy. Beat in 1 teaspoon grated orange peel and 1 tablespoon orange juice. Store in refrigerator. Bring to room temperature before serving. Makes 3/4 cup.
Chocolate Hazelnut Spread: Grind 1 1/2 cups toasted hazelnuts and 1/4 teaspoon salt in food processor until very fine and getting creamy. Add 1/2 cup powdered sugar and 1/2 cup semi-sweet chocolate chips, melted. Pulse until blended. Store in refrigerator. Bring to room temperature before serving. Makes 1 cup.
Crisco is a trademark of The J.M. Smucker Company.
---
---