A new healthy spin on the classic tortilla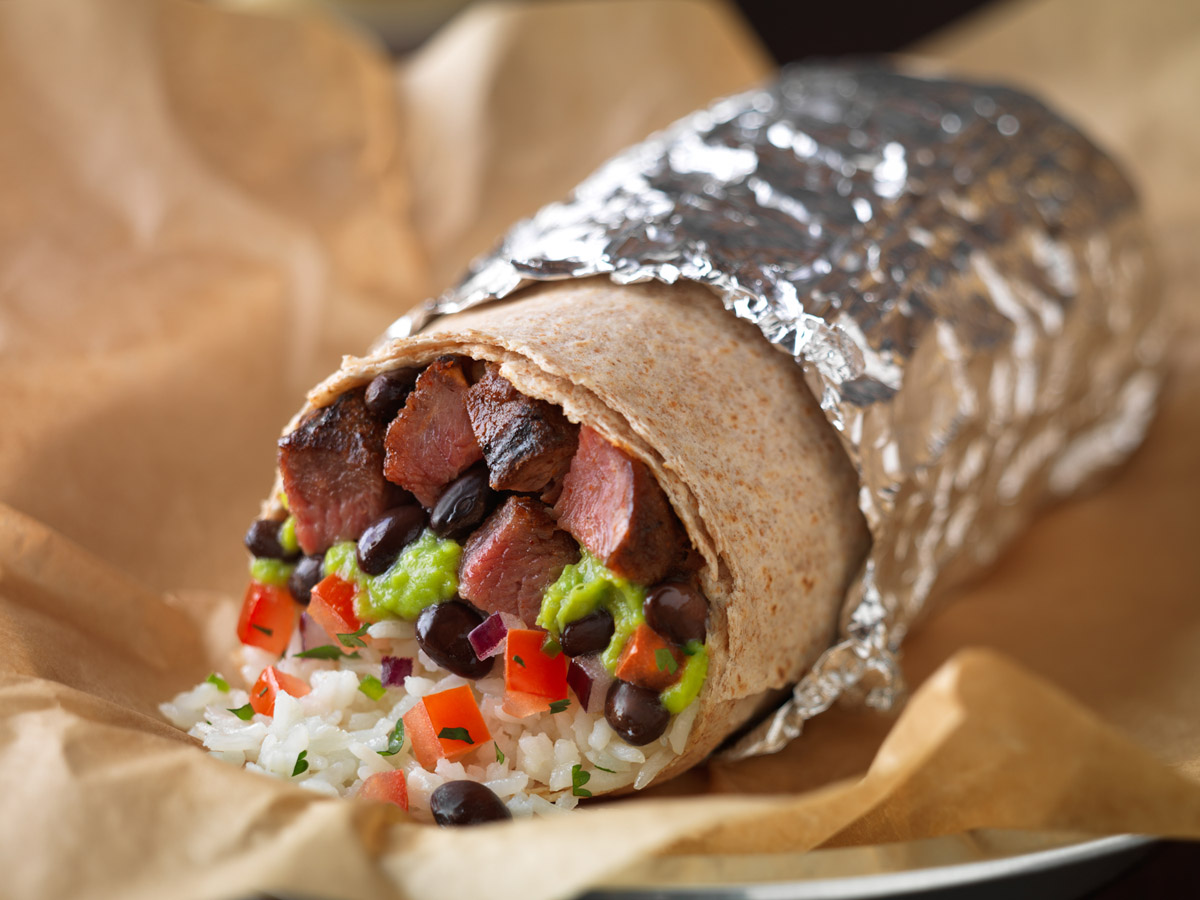 (BPT) Many people opt for whole wheat bread as a healthier option than the white version. But for meals that go beyond a standard sandwich, whole wheat tortillas can serve as a versatile ingredient that's more nutritious than white flour tortillas. Whole wheat tortillas typically contain fewer calories, less fat and more fiber than traditional white flour versions, while also offering vital nutrients like antioxidants and B vitamins. Many restaurants, including Qdoba Mexican Grill, have incorporated them into their menu, and it's easy for you to do the same when preparing foods at home.
One of the biggest attractions of tortillas is their versatility, particularly for busy nights when a quick, fresh meal is a necessity. The same tortilla that you would use for a homemade quesadilla can also be used as a pizza crust or dessert crepe. With a little imagination, you can use whole wheat tortillas to create tasty and unexpected dishes that the whole family will love.
* Tortilla pizzas. Think of tortillas as an already-prepared pizza crust that just needs a touch of your creativity. Top whole wheat tortillas with sauce, vegetables and pre-cooked meats for a healthful taste treat. Or, turn it into a dessert by adding fruit, which can take on even bolder flavors when grilled.
* Crepes. Making the traditional French creation can be a real challenge, particularly if you don't have the right tools. Instead, use tortillas to make sweet and savory crepes when the mood strikes. Spiced apple filling is ideal for those with a sweet tooth, but ham-and-cheese or vegetable-and-cheese versions can make great lunches and dinners.
Having easy, nutritious options for dinner, lunch and beyond is the saving grace of many pantries. Keeping a stock of tortillas, particularly nutrient-rich whole wheat varieties, makes it easy to prepare creative, delicious dinners that please all kinds of palates. Try these recipes from Qdoba's head chef Ted Stoner for a fresh, flavorful take on tortillas. For more information about Qdoba, visit www.qdoba.com.
Crispy Whole Wheat Tortilla BBQ Chicken Pizza
Makes one pizza
INGREDIENTS
1 8-inch whole wheat tortilla per pizza
1 Rotisserie chicken*, skin and bones removed, shredded in bite size pieces
1/2 ounce red onion, diced
1 ounce BBQ sauce
3 ounces partial skim mozzarella cheese
1/2 ounce mild green chiles, diced (fresh or frozen preferred)
5-6 sprigs fresh cilantro chopped
DIRECTIONS
Pre-heat oven to 350 degrees.
Place tortilla on a baking sheet and bake for 3-4 minutes, or until slightly crispy.
Remove from oven and top with BBQ sauce, cheese, desired amount of chicken, diced onions and diced green chiles.
Place back in oven for approximately 10 minutes, or until cheese is completely melted.
Remove from oven and top with fresh chopped cilantro.
Cut in to quarters and serve.
*One full rotisserie chicken will make as many as six pizzas. After you've used the desired amount of chicken on your pizza, wrap and save leftovers or make additional pizzas.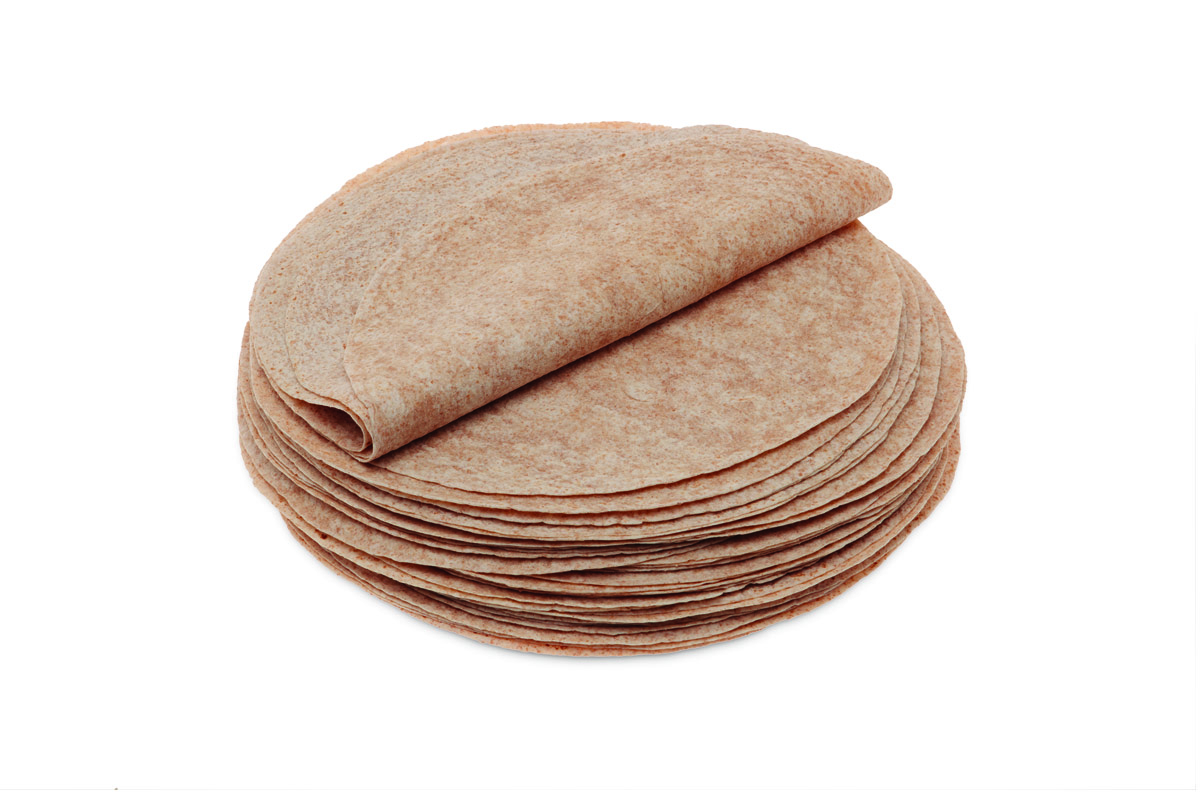 Whole Wheat Tortilla Apple Crepes
Makes 6 – 8 crepes
INGREDIENTS
6 – 8 8-inch whole wheat tortillas
1 can apple pie filling
4 large eggs
1/2 cup low-fat milk
1 teaspoon vanilla
1/2 teaspoon ground cinnamon
1/2 teaspoon ground nutmeg
1 tablespoon powdered sugar for garnish
DIRECTIONS
Whisk eggs, milk, vanilla, cinnamon and nutmeg thoroughly in a bowl large enough to dip tortillas.
Heat non-stick skillet on medium-high.
Dip one tortilla in the French toast batter, coating thoroughly on both sides.
Place the tortilla in the heated skillet and cook to a golden brown on both sides.
Wrap tortillas in tin foil and place in a warm oven until all tortillas have been battered and cooked.
Fill finished crepe with apple pie filling.
Dust with powdered sugar and serve.
---
---