Summer grilling meets healthy potato salad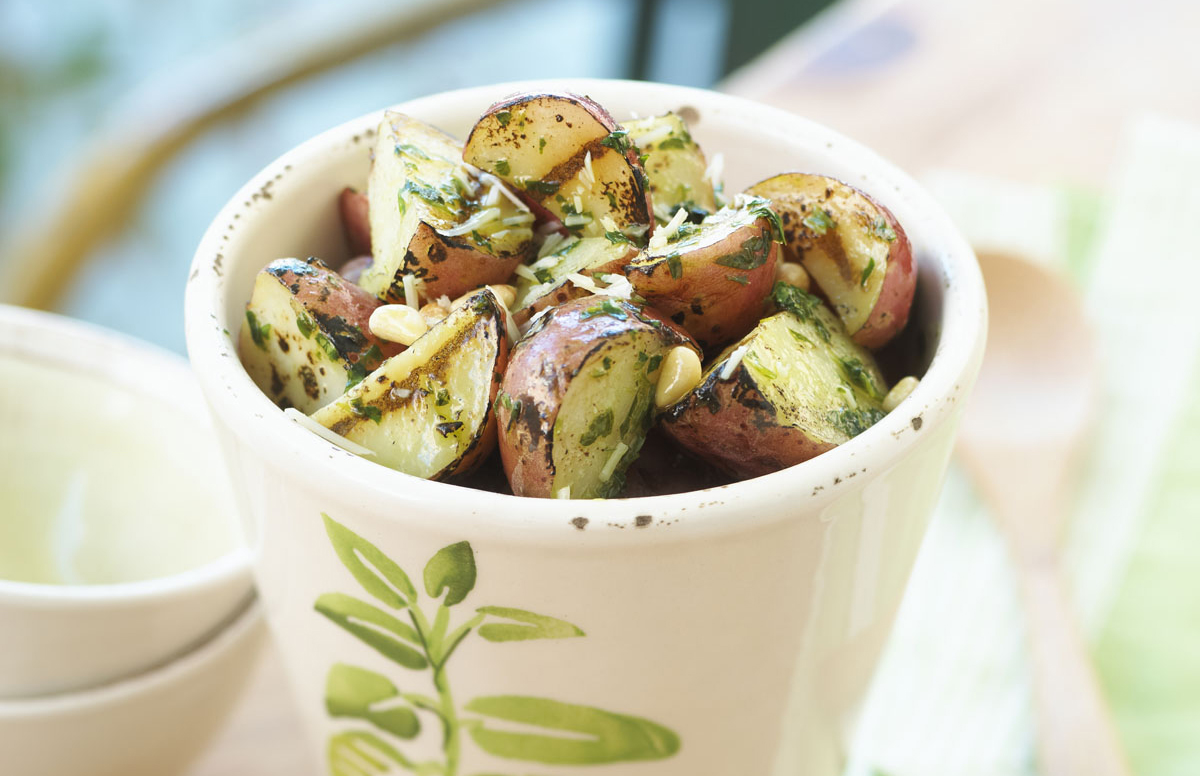 (ARA) – Surprise and delight the family by combining two summertime favorites – grilling and potato salad – into one to create unique flavors and a new star side dish. Cooking potatoes on the grill adds a smoky flavor to these vegetables. Another twist to this traditional potato dish is switching up the potato type. Try Russets, reds, fingerlings, blues, purples, yellows or whites tonight.
It's no wonder potatoes are America's favorite side dish – they're naturally delicious and nutritious.
At just 110 calories, potatoes are packed with essential vitamins and minerals. In addition to providing a good source of potassium, a medium-size (5.3 ounce) skin-on potato has almost half your daily value of vitamin C (45 percent), and has absolutely no fat, sodium or cholesterol.
Pound for pound, potatoes are also still one of the least expensive items in the produce department. One serving – a medium potato – will set you back only about 25 cents.
Potatoes are a key part of the vegetable section of the new United States Department of Agriculture (USDA) MyPlate guidelines. Potatoes are specifically recognized as a vegetable selected to meet the critical need for more potassium and are included multiple times in sample MyPlate menu plans.
You can lose the weight, without losing the potatoes. Potatoes can be a part of a weight loss program, according to research released by the University of California, Davis and the National Center for Food Safety and Technology, Illinois Institute of Technology, in October 2010.
With no stove-top or oven required, this Grilled Pesto Potato Salad recipe is easy to prepare and is guilt-free at just 210 calories per serving. With 784 mg of potassium, it also packs nearly 20 percent of your daily value of the essential mineral – more than a banana.
Grilled Pesto Potato Salad
Prep time: 20 minutes
Cook time: about 15 to 20 minutes
Ingredients:
3 pounds medium-size red potatoes
Olive oil cooking spray
1/3 cup white or golden balsamic vinegar
1/4 cup extra virgin olive oil
1/2 teaspoon sea salt
3 cloves garlic, minced
Freshly ground pepper to taste
1/3 cup shredded Parmesan cheese
1/4 cup finely minced fresh basil
1/4 cup toasted pine nuts (optional)
Directions:
Place potatoes in a large microwave-safe bowl; cover with lid or plastic wrap. Note: If using plastic wrap, make sure plastic wrap is not touching any ingredients and poke one small hole in cover to vent.
Microwave on high for 10 to 12 minutes or until potatoes are tender (cooking time may vary depending on microwave). Use oven mitts to carefully remove from microwave. When cool enough to handle, cut potatoes in half or quarters and spray liberally with olive oil spray.
Grill over high heat for 5 to 7 minutes, turning occasionally, until grill lines are apparent. Remove from grill and let cool. Cut into bite-size pieces and place in a large bowl. Whisk together vinegar, oil, salt and garlic; pour over potatoes and toss lightly to coat.
Season with pepper, then cover and refrigerate until ready to serve. Just before serving, toss with Parmesan cheese and basil, then sprinkle with pine nuts.
Makes 8 servings.
Nutritional analysis per serving: Calories: 210, Fat: 8g, Saturated Fat: 1.5g, Trans Fat: 0g, Cholesterol: 5mg, Sodium: 230mg, Potassium: 784mg, Carbohydrates: 29g, Fiber: 3g, Sugar: 2g, Protein: 5g, Vitamin A: 2 percent, Vitamin C: 60 percent, Calcium: 8 percent, Iron: 8 percent
Visit www.potatogoodness.com to see more healthy potato salad recipes, how-to videos and potato nutrition information.
---
---