Budget-Friendly Take on a Holiday Comfort Food Classic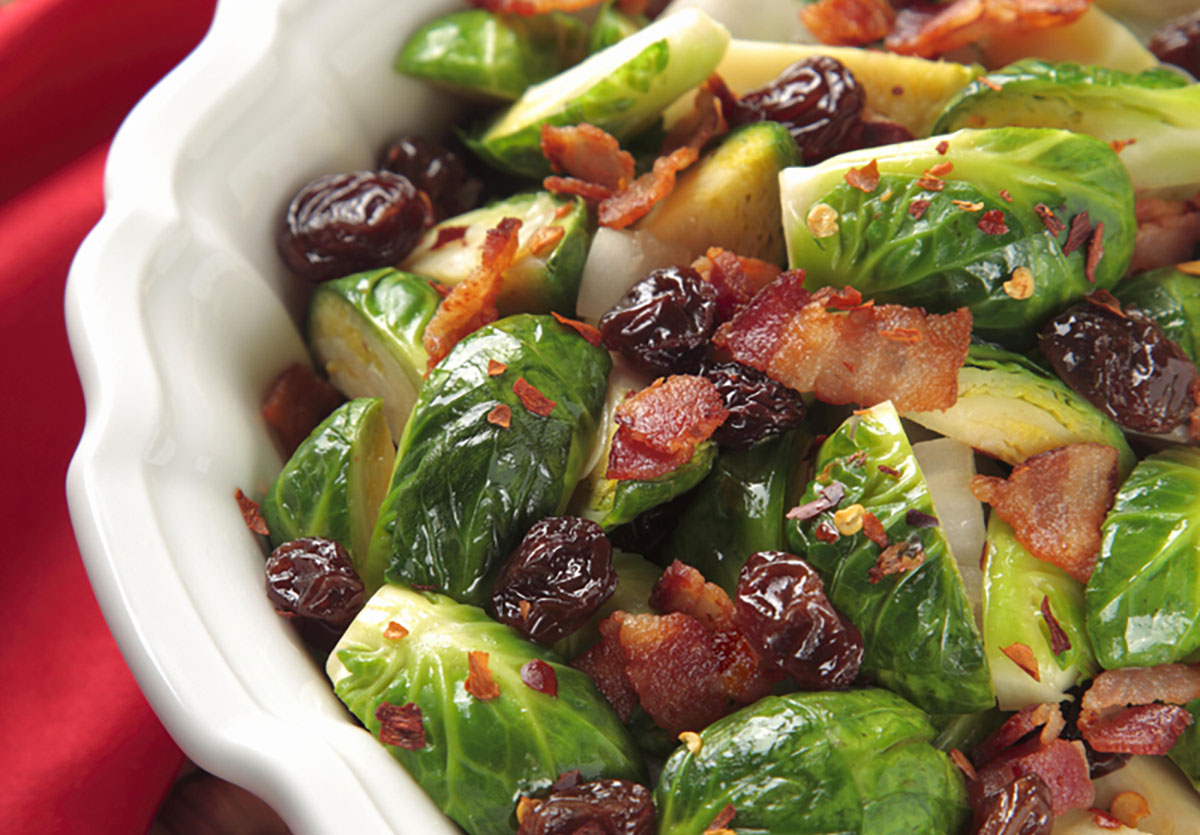 (NewsUSA) – Let's face it. When the holidays come around, budgets can get tight. So feeding an entire family a festive meal requires knowing how to stretch a dime. One key: inexpensive side dishes. This California Raisin Bacon Brussels Sprouts recipe is a money-wise example. At less than a dollar per serving, it's a traditional side that won't break the bank. California Raisins provide a delicious burst of sweetness to the savory Brussels sprouts and salty bacon.
Not only are raisins ranked as the most economical dried fruit by the United States Department of Agriculture, but you can also feel good about adding all-natural California Raisins to any dish. This small, but mighty, fruit delivers fiber, potassium and antioxidants, and just a quarter cup of raisins provides a serving of fruit. Check out calraisins.com for this recipe and hundreds more!
California Raisin Bacon Brussel Sprouts
Makes 4-6 servings
INGREDIENTS
3 slices Hickory Smoked Bacon, cut into 1/4 inch slices*
1 pound Brussels sprouts
1 small yellow onion, chopped
1/2 cup California Raisins
1/4 teaspoon salt
1/4 teaspoon pepper
1/4 teaspoon red pepper flakes (season to your taste)
DIRECTIONS
Wash, trim and quarter Brussels sprouts; arrange in microwave-safe container with 1 tablespoon water. Cover, and microwave on HIGH for 5 minutes. Meanwhile, in large skillet over medium heat, cook bacon until crisp; remove with slotted spoon to drain on paper towels; set aside. Reserve 1 tablespoon drippings in skillet; add onion and cook over medium heat until tender. Then, stir in cooked Brussels sprouts, raisins, salt and pepper; toss to combine, and continue to cook just until heated through. Sprinkle cooked bacon pieces on top. Turn into large serving dish; garnish with cooked bacon pieces, and sprinkle with red pepper flakes, as desired.
* For a vegetarian version, omit the bacon and substitute with olive oil or coconut oil.
Nutritional analysis per serving: Calories 196; Total Fat 11g, (sat 4, mono 5g, 2g poly); Cholesterol 16mg; Protein 6g; Carbohydrates 22g; Fiber 4g; Iron 1.7mg; Sodium 331mg; Calcium 79mg.
---
---